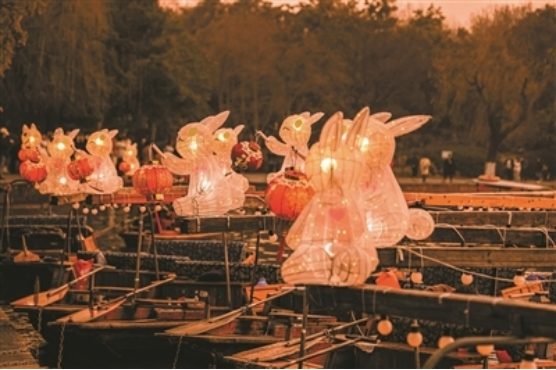 Recently, 30 lucky cruise ships dressed with rabbit lanterns appeared in West Lake, and the taste of Hangzhou has gradually become stronger. In addition to the West Lake cruise, there are many rich activities during the "Song" Fu Hangzhou Year event from January 10 to February 5, 2023, driving Hangzhou cultural tourism consumption.
Qinghefang-Southern Song Royal Street will launch the Song Yun themed New Year Festival, where visitors can experience the "most blessed street in Hangzhou during the Spring Festival", fully displaying the style of Song Yun and the atmosphere of the New Year; In the Southern Song Dynasty Deoksugung Palace Site Museum, a "Blessing Red Wall" check-in point was set up, and a check-in device of "flower arranging, tea ordering, hanging paintings, and burning incense" was launched to convey the atmosphere of the Song Yun Cultural Year in a way that young people liked; At the Hangzhou Museum at the foot of Wushan Mountain, visitors can also have a dialogue with cultural relics such as blue and white jade rabbits, deer pattern bricks and other cultural relics "lucky treasures" that span thousands of years.
---
welcome to our website for more interesting news!